Yr6 Transition

Headteacher's welcome to our new Year 7
Dear Parents / carers
It gives me great pleasure to welcome you and your child to Corpus Christi Catholic High School. Choosing your child's school is one of the most important decisions you will ever make.
The move to secondary school is a very important step in the life of every young person. It is also an exciting step but one that can be confusing and rather overwhelming at times. Here at Corpus Christi, we aim to make the transition as smooth and enjoyable as possible.
We are a fully inclusive school, in which our motto, "Together we are the Body of Christ," serves as a constant reminder to all to see the human face of God in everyone, and to respond appropriately. As a result of this, our school is a happy, welcoming, safe and orderly environment where real and lasting growth: spiritual, moral, psychological, physical, emotional, social and academic takes place, and where all pupils learn to be proud of who they are so that they can be ready to take their rightful place in the world.
Our Transition Team, led by Mr McKeever (Associate Assistant Headteacher) and Ms Rebekah Maclaughland (Head of Year 7), oversees the smooth transition of students from primary to secondary school on an annual basis. During the summer term we gain information from every primary school to learn more about your son/daughter. This close collaboration will enable us to fully understand your child's progress, abilities, interests and friendship groups. Whilst we understand you may have comments regarding any one of these matters, often particularly with friendship groups, rest assured we will be able to harvest this information from your child's Year 6 teacher. This transition planning process is well established and promotes a smooth and productive start to secondary school; we ask that you place your trust in this system which will be our sole source of information to guide our decision making for allocation of tutor groups.
We look forward to meeting you and your child in the future.
Yours sincerely,
Patrick Brunnock
---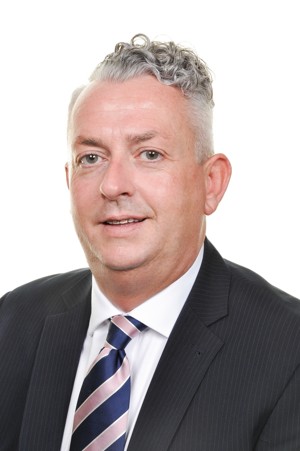 Mr McKeever - Head of Key Stage 3
Hello and a very warm welcome to Year 7 in lower school! My name is Mr McKeever and I am delighted to say that I will be with you on your journey through Corpus Christi Catholic High School. I have a wealth of experience in pastoral care, as well as being a full time Design and Technology teacher and I am really looking forward to supporting you at such a crucial stage of your school career.
The transition to secondary school is an extremely important time for students, both in terms of academic achievement as well as building the "whole" person. Therefore, I am pleased to say that the Year 7 Pastoral Team are on hand to support your child at every step of the way, to ensure that they settle in to high school life as smoothly and easily as possible.
I value the importance of establishing a routine during the first weeks of term and have high expectations of every student. I would like to emphasise that punctuality and attendance play a very real part in academic success. Similarly, wearing the correct uniform quickly establishes the year group identity and sense of cohesion. Also, in addition to having an excellent attitude to learning in their lessons, all students are encouraged to join in the wide range of clubs and activities that we are lucky enough to offer here at Corpus Christi Catholic High School.
Finally, I believe that the key to a successful year is open communication between staff, students and parents/carers – by working together we can achieve so much! Therefore, please don't hesitate to contact me at trevor.mckeever@corpuschristihigh.school should you have a question about any part of your child's transition. I look forward to meeting you and your child in the coming weeks.
---

Mrs MacLaughland - Head of Year 7
Hello and welcome to Corpus Christi Catholic High School! Let me begin by introducing myself - Mrs Maclaughland- your Head of Year in September. I am very much looking forward to meeting you all over the next couple of weeks, be it on my visits to your Primary schools or on your Transition evenings to Corpus Christi. I will be able to answer any questions you may wish to ask and tell you about the ethos of our wonderful school and about all the exciting new opportunities you will be able to experience too. I have no doubt that each and every one of you will make a valuable contribution to our school community in the future. Take care of yourselves and each other and I will see you all very soon.
---
Transition Visits:
Date:

-

-

-

-

Friday 2nd of July

School:

-

-

-

-

4.00pm – 5.00pm

Non Feeder Primary Schools

Date:

Monday 5th of July

Tuesday 6th of July

Wednesday 7th of July

Thursday 8th of July

Friday 9th of July

School

4.00pm – 5.00pm

St Philip Evans

4.00pm – 5.00pm

Christ the King

4.00pm – 5.00pm

Holy Family

4.00 – 5.00pm

St Bernadette's

4.00pm – 5.00pm

St Peter's

Date:

Monday 12th of July

Tuesday 13th July

-

-

-

School:

4.00pm – 5.00pm

St Joseph's

4.00pm - 5.00pm

Non Feeder Primary Schools

-

-

-
Details for Visit:
Drop off at 4.00pm and children will be escorted to the hall
4.10pm groups of up to 15 pupils will be taken on a tour of the school for 30 minutes
4.40pm pupils will be taken back to the hall and they will be given the opportunity to ask questions
4.50pm pupils will be escorted back to the car park to be collected by their parents/guardians
Please note that parents will not be permitted to accompany their child around the school site on this visit, must remain in their vehicles and adhere to social distancing measures due to the Health and Safety restrictions in place.