Catholic Pupil Profile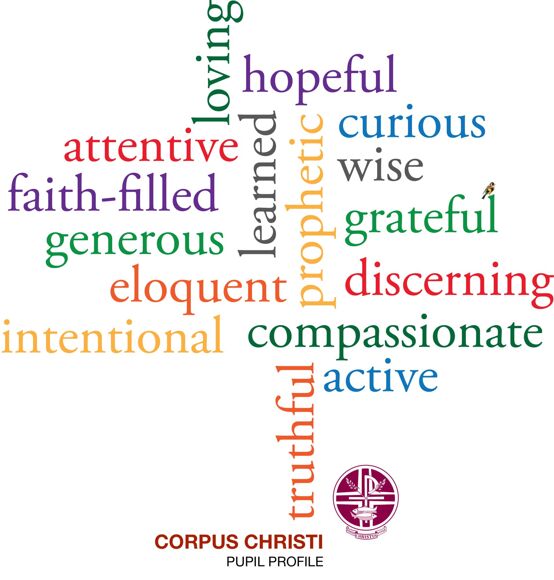 The Catholic Pupil Profile is a key instrument by which the virtues taught by the Catholic Faith are expressed in the schools of our Diocese. Based on the Jesuit Pupil Profile, they seek to help us form young people (and ourselves!) in those good ways of living by which our mind and character become 'good'. Becoming 'good at being human' is a main goal of Catholic education, and our tradition helps us see that in order to achieve this we need to 'train' our minds, hearts, words and deeds in goodness.
Using this tool well also means we fulfil the expectations Welsh Government has for formation in the four 'Core Purposes' of the New Curriculum (where these apply, i.e. in our Welsh schools), as well as forming key virtues needed for fulfilling expectations of RSE in both England and Wales. The Catholic Pupil Profile is therefore a key part of 'living and learning' in our schools. It aims to propose a simple but challenging statement of the qualities we seek to develop in pupils in our Catholic schools.
The Catholic Pupil Profile consists of eight virtue pairs that come from the both the gospels and from the Ignatian (Jesuit) spiritual tradition. These virtues are not, of course, unique to Jesuit schools or to Catholic schools – these words come from our tradition but are fundamentally human virtues shared by all human beings. They express what it is to be a good person living a virtuous life.
At Corpus Christi, we use the Catholic Pupil Profile virtues in all areas of school life to instil positive behaviour through Class Charts rewards points, assembly themes, collective worship, and our pastoral behavioural system. We believe in an holistic approach to the education of our learners.
History and Origins
The Catholic Pupil Profile is based on the model of the original Jesuit Pupil Profile (JPP) established in Jesuit schools in 2013. The JPP grew out of reflection and work done in the Jesuit schools to try to articulate the values and virtues the schools were aspiring to develop in their pupils. In 2018, all Catholic primary and secondary schools in the Archdiocese of Cardiff have adopted the Pupil Profile model for its pupils. Our journey through the 'half-termly' virtues coincides with all Catholic schools in the Archdiocese of Cardiff, Archdiocese of Birmingham and all Jesuit schools in the United Kingdom. This commonality allows us to journey together with our fellow Catholic schools across the nation.
"We think this is what a well-educated and good person who can make a difference to the world looks like. What do you think? What kind of person do you want to be?"
Autumn Term 1st half (Compassionate and Loving)
Autumn Term 2nd half (Faith-filled and Hopeful)
Spring Term 1st half (Eloquent and Truthful)